BIMI stands for Brand Indicators for Message Identification. It's a standard that attaches your brand's logo to your authenticated email messages. With this simple, visual verification, recipients can recognize and trust the messages you send. BIMI adds your logo to your emails in the inbox so subscribers can quickly identify your messages and trust they're from you.
BIMI is a recent addition to email DNS authentication, to help ESPs (email service providers like Gmail, Yahoo, etc…) authenticate your brand and add your logo beside your subject lines.
Here are the requirements you need to setup BIMI on your domain DNS:
SVG logo (preferably square icon) hosted on a secure repository.
Access to your DNS configuration (Cloudflare or Godaddy).
DMARC Policy setup already with Quarantine or Reject (here is a link to learn more about DMARC).
The record format:

default._bimi --> TXT --> v=BIMI1; l=https://path_to_your_svg_logo.com;



DNS check from our friends at MXToolbox.
Here's an example of an inbox before BIMI: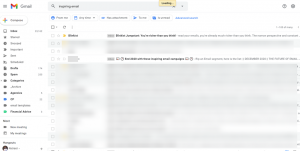 After BIMI: