The Social Calendar allows you to observe your posts in a calendar view. Below are some details to help you understand your calendar functionality:
Successfully published posts will appear with a ✓ check-mark.

Posts with problems posting will appear with an X mark.

You can change your view preference to Weekly based, Monthly based or List based.
You can navigate backward and forward on your calendar to view older and future posts. The today option will bring you back to your current date.
You can apply filters by profile(s) or by group(s) to view posts associated with these accounts.
Apply a full-screen mode for full real estate visibility.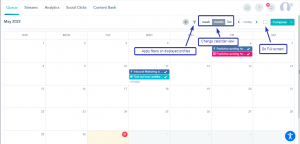 Editing Scheduled Posts
If you click on any scheduled post, an editing window will popup which allows you to edit your post and update its content. You can also change the date. Note that you can recycle older posts by modifying their date.