The platform enables you to manage your various Social Media Profiles in one place including Instagram.
To schedule an Instagram post, follow these steps:
Connecting your Instagram business account:
To connect your Instagram business account, you should be logged in to the corresponding Facebook business account and make sure that the Facebook and Instagram accounts are linked: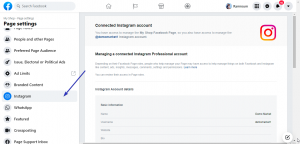 Afterwards, select the accounts you'd like to add: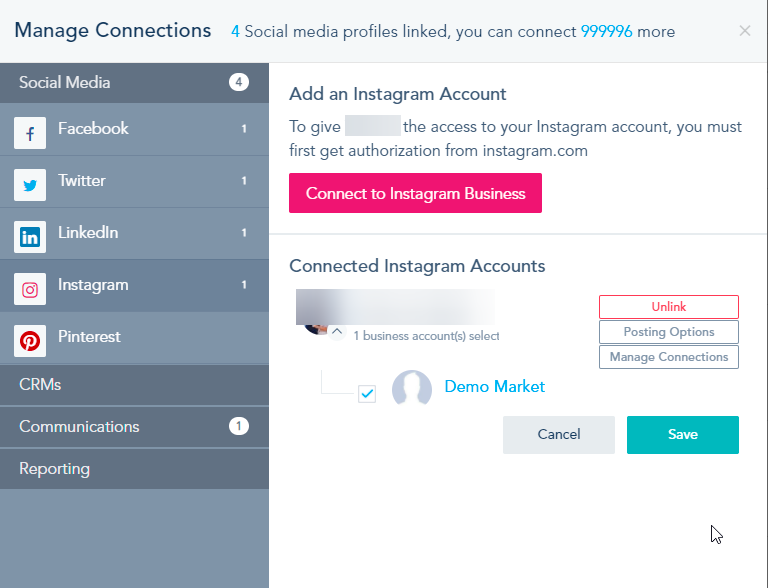 Choosing posting configuration:
The platform supports posting automatically to Instagram, but you can also setup email notifications to team members with the date and time of the post. To change the email that receives the notifications, click on Posting Options.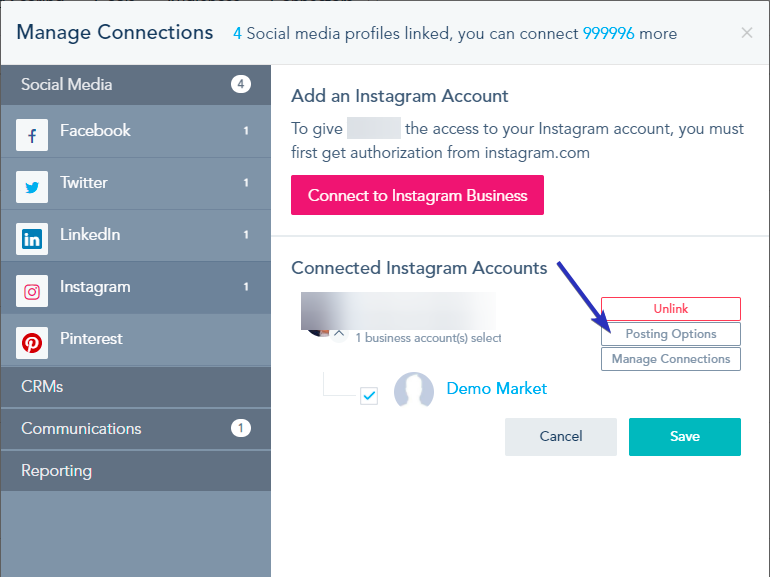 Change the Email Address on the popup. If you do not want notifications to be sent out when posting is due, leave this field empty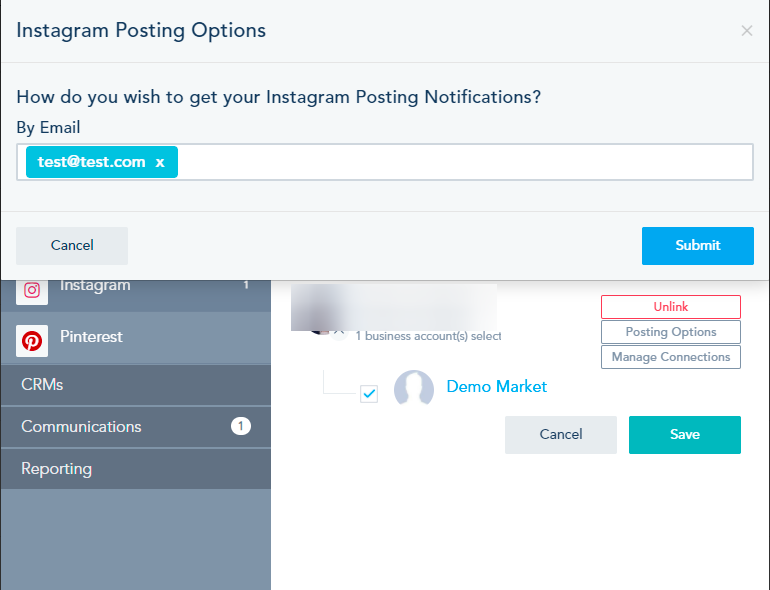 Uploading media and API limitations:
Instagram posting only supports 1 image, preferably JPEG and videos. It does not support carousels or stories.
As for size limits: maximum columns (horizontal pixels): 1920, minimum aspect ratio [cols / rows]: 4 / 5, maximum aspect ratio [cols / rows]: 16 / 9
Using Hashtags:
Hashtags are supported and can be used when posting to Instagram, just type the "#" followed by the text, for example: #fashion
Adding mentions:
To add mentions to your Instagram post, you have to add the exact handles, for example if you want to mention an account with the username marketingautomation, you should type @marketingautomation.
Note that we do not give you suggestions which is why you should type the exact handle.
Tagging other Instagram accounts:
Once you upload the image, hover and click on Tag: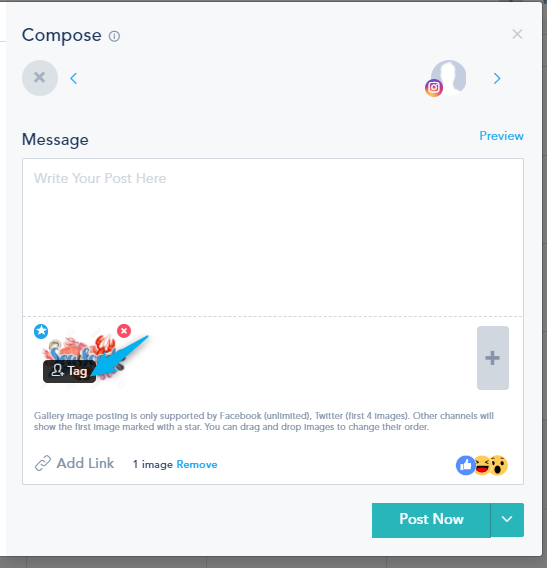 Click anywhere on the image and type the full account name and press Enter to confirm: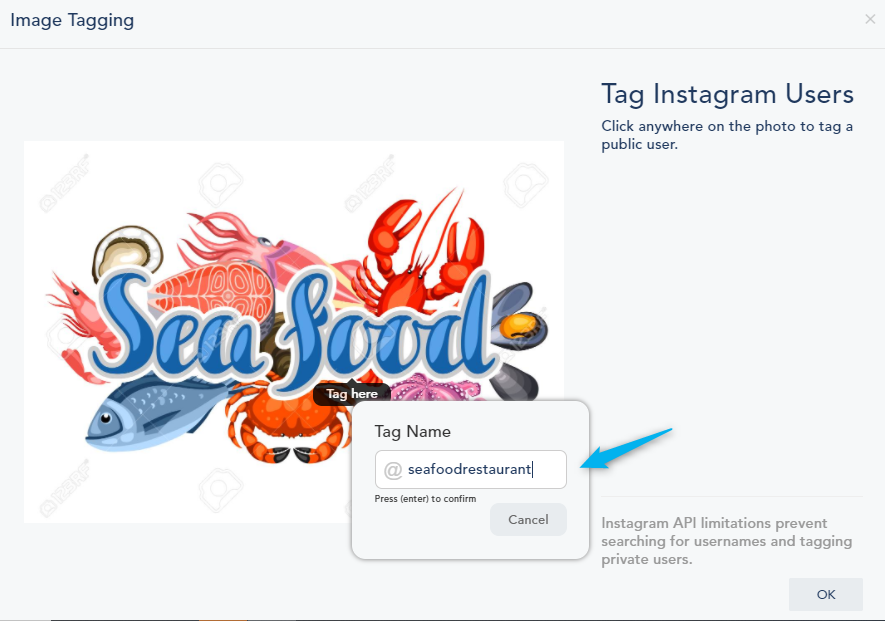 Note that private accounts can't be tagged, and you won't see suggestions, you should type the full handle.
Using geolocation tagging:
This feature is still pending and we will enable it as soon as it's available.
Composing the post:
Click Compose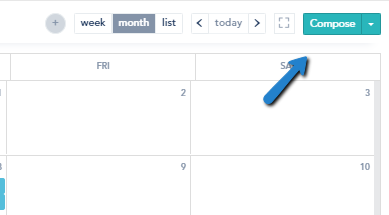 Choose your linked Instagram Account(s) by clicking on +ADD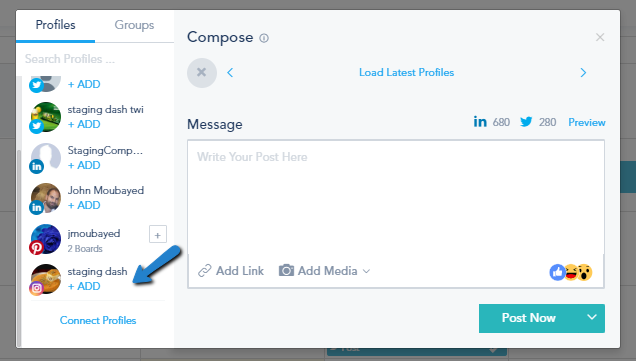 The Account will appear on top right channel grid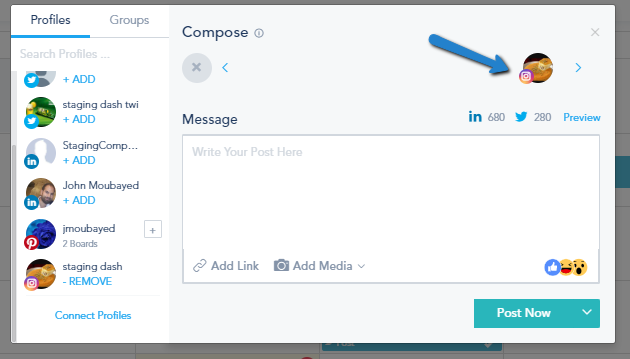 Upload the Image or Video then type in your post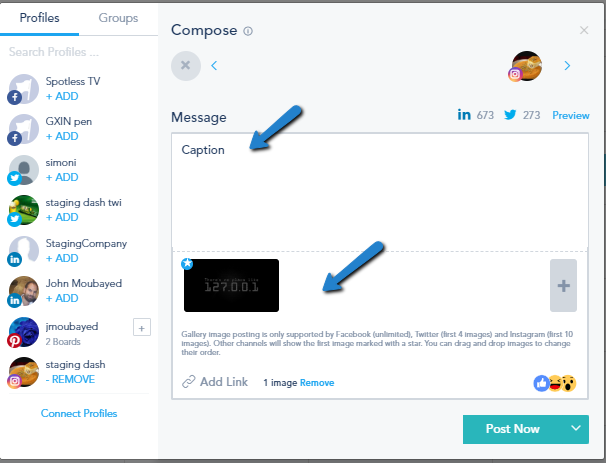 Choose Post Now, or Schedule Post, you will see the following, and the post will appear on the calendar.