The landing page builder offers a few dynamic blocks that you can use. These blocks include RSS feeds, embedded videos, event Calendars and event Countdowns.
Once you select one of these blocks and drag it to your page, you can access its settings by clicking on the Settings option in the top of the block itself.

This will allow you to edit the settings for this specific block, so for example if it's a calendar block, you will be able to select the calendar type (iCalendar, Google Calendar or Outlook Online), input the start and end dates, title, description, location and time zone for the event. This way once you publish your landing page, if someone clicks on the Add to Calendar button, they will automatically be able to add the event to their personal calendar.

The same rule applies to the countdown block, you will be able to edit its settings and specify the targeted date and time.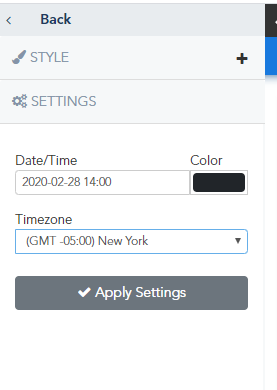 For RSS feeds blocks, you can input the RSS feed URL inside the block settings. And for the Videos blocks, you can also embed the Youtube/Vimeo/MP4 URL link for example using the block settings option as well which will automatically be reflected on the block itself.