Social Post Content Generation
The AI Content Assistant feature provides the capability to generate social media post content effortlessly. In addition to email content, this feature allows you to create engaging and relevant posts for your social media platforms. This guide will walk you through the steps to use the AI Content Assistant for generating social media post content.
Step 1: Install or Connect Your OpenAI Account
Install the Copy AI Assistant add-on from the Add-ons section or connect your own OpenAI account (free of charge) by navigating to the Connection Center and clicking on "Connect to OpenAI."
 Provide a name for your OpenAI account and enter your API key.
Optionally, select this account as your default for AI content generation.
Step 2: Access the AI Content Assistant
When composing a new social media post, you can find the AI Content Assistant in the Compose post window.
Click on "AI Content Assistant" to access the feature.
Step 3: Generate Social Media Post Content
Choose whether to use the AI Content Assistant add-on credits (System Credits) or connect your own OpenAI account for content generation.

Select the social media platform (Type) for which you want to create the post.
Fill in the topic, language, and tone for your post.
Decide whether to include hashtags or emojis in your post.
Specify the number of post variations you need.
Note: Please be aware that with the AI Content Assistant add-on, you have 50 credits initially, and each generated variation will consume one credit. Additional credits can be purchased from the Add-ons section if needed.
Step 4: Use the Generated Content
Once the content is generated, you have two options for using it:
Copy and paste the post directly into your social media platform.
Save the content for future use.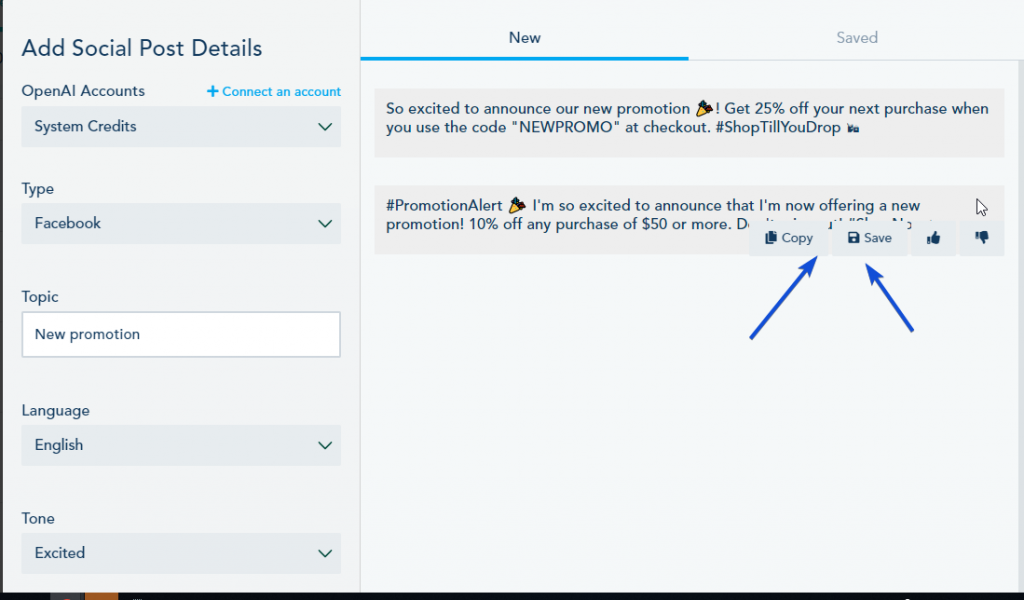 When saving the social media post content, it will be stored in the Saved section under the relevant type.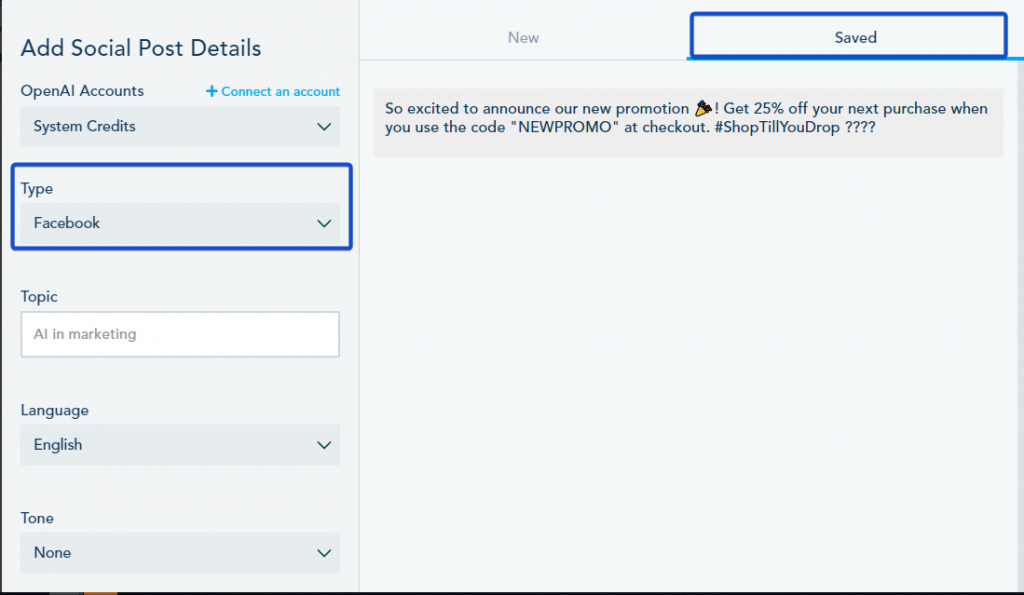 Related Articles