Improper Authentication:
Authentication is extremely important as it helps ISPs identify you as a sender. You should make sure your email server supports these protocols (DKIM, Domain Keys, SPF, and Sender ID) and that they are properly implemented.


High complaint rate:
If too many people are flagging your mail as spam, ISPs will take action and will first start sending your mail to the Spam Folder, then they may start throttling your messages or even block them. Keeping an eye on the complaint rate is critical if you want to reach the Inbox.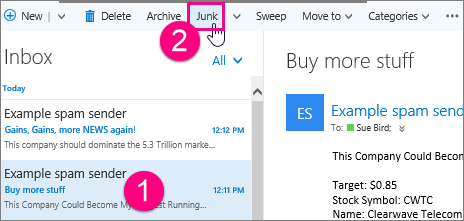 Lack of an Unsubscribe Link:
It is important to give the customers the choice to opt-out of a service. Not adding an Unsubscribe link to the emails will only force a subscriber to hit the Spam button in order to stop receiving emails from a Sender. Avoid this by adding an opt-out link to your emails. Some studies have shown that you can lower the complaint rates by simply placing the Unsubscribe link at the top of your emails and making it visible, easy to find. The system automatically adds an Unsubscribe link at the bottom of your email in case you didn't add it, this will lower the chances of your email going to spam.
Here's how you can add an Unsubscribe link using shortcodes:



High Frequency:
This is the number one reason subscribers either hit the Spam Button or Unsubscribe from an email stream. ISPs want to make sure that their users' mailboxes don't get crowded and in order to protect their users from email fatigue, they can start junking the messages. To avoid this, the best way to go about it is to simply include a link to your Email Preference Center in your emails. This way you let your subscribers tell you how often they want to hear from you. 26% of people cite that the reason behind unsubscribing is receiving too many emails. Allow users to choose exactly how many emails they get each day, week, or month.
Sending to inactive users:
Subscribers can lose their interest and stop opening your emails. The most common tendency is to send emails to even more users. However, this will only hurt your deliverability even more because ISPs have ways of monitoring the activity of the users. They can check whether users open the emails, click on links, delete or mark emails as spam or not spam, basically they monitor the users' level of responsiveness or engagement. Based on these metrics ISPs decide folder placement – whether the email goes to the Inbox or if it gets Junked. The only way to avoid hitting the Spam Folder is by tracking user engagement as well. Before removing the inactive users from your distribution lists it is worth trying re-engaging them. One great way to do that is by sending them reconfirmation campaigns (In order to maximize your email deliverability it is important to keep your address list current and clean. A reconfirmation email, otherwise known as a re-opt-in email, reminds clients you correspond with about your business (which can increase your inbound marketing), effectively cleans your lists with minimal impact to your deliverability, and prevents inadvertently spamming your clients).
Inadequate content:
It is well known that the ISPs are protecting their users with the help of spam filters. Using the wrong words or even characters in your email can trigger the spam filters and therefore throw your email in the Spam Folder. The key thing to remember is that a spam filter is trying to remove commercial advertisements and promotions. So generally, words that are common in such emails should be avoided or used sparingly. That said, take a look at these 100 Spam Trigger Words & Phrases to Avoid