After adding a form to your landing page, you can access the form settings to connect the form to an existing list.
Go to the Form Settings, by clicking on the gear icon of the block, select the Use an existing email list option.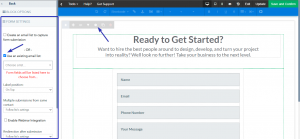 Once you choose your list from the drop-down, you will have the option to choose what fields to use in your form.
You can deselect any field you don't want to show in your form.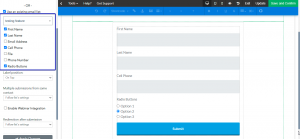 In case you need to add or edit the fields in the form you need to change them from the Form builder. Please check Creating custom form fields for more details.
Also, you have the option to choose the settings for Multiple submissions from same contact and where to redirect after the submission.
Once you finish configuring the form settings, click on apply changes: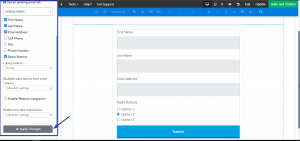 Please note that in case you choose to Follow list's settings option, these settings can be changed from the Form Settings in the Contact section.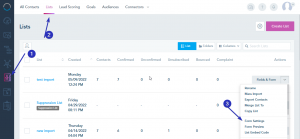 Note: Any changes applied in the list settings will change the design of the form back to the default style. So try to finish all your list editing before changing the design of your form on the landing page.